The Conversion Prophecy
A Novel by: Michael Solomon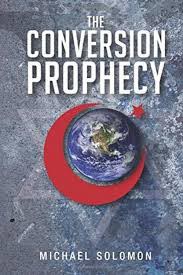 What if you awoke one morning to find all the flags flying in the free world were all Islamic?
I may be turning the political world upside down with this new and provocative novel.
What develops is a new form of terrorism without the shedding of one drop of blood or the firing of a single shot.
Peace in the name of one religion, Islam, will threaten to dominate mankind.
The story takes you from the halls of a Mosque in Indonesia to the highest
plateau of the political arena in Washington, where a real life plot has developed to take control of the entire economic balance of the global corporate world and completely change life on earth as we know it.
It will leave you wondering if a real Manchurian Candidate really does exist?
Book Awards
This book has won the prestigious national award by Books and Authors as the Best Book in Fiction for 2016. It was a finalist in the 2016 Next Generation Indie Book Awards, in the thriller category.  In 2017 Michael won the covenant John L. Weaver, Reader's Choice Award.  His novel has already been written for the Hollywood screen.