Success By Default®
A book by Michael Solomon
Available in Bookstores or online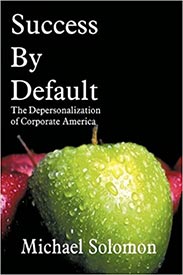 In the cutthroat world of business, many aspiring moguls reject kindness as a virtue and develop a sharp competitive edge that can wound struggling colleagues.  For those who wish to rise to the top without knocking others down, the author offers guidance in Success By Default: The Depersonalization of Corporate America.
"No matter what business you are in, no matter what your product or service is, the only thing that runs a business is people."  Through Solomon's own struggles with unscrupulous entrepreneurs, he has developed a business plan steeped in humanism, which he now shares with his readers.
Each chapter delivers witty anecdotes, simple wisdom and straightforward advice on how to avoid trampling people in the mad rush to achieve.  An insightful guide to ethical business practices, the author offers readers pages of wisdom gleaned from the front lines of corporate battles.
Success By Default takes readers through Solomon's action-packed career in law enforcement and a chain of events that led him to reinvent himself as a corporate player.  Immersed in a sea of successful executives, Solomon was first excited, then disillusioned, as he witnessed the actions of his colleagues.  He boldly details the misplaced priorities, stolen ideas and unethical practices that left him dismayed. Instead of wallowing in self-pity, Solomon forged ahead.
What follows is the journey of how the author created one of the most successful small businesses within his field, earning not only the respect of his employees and customers, but his community as well.  He was twice nominated as operating the best company in America in his field.  His philosophy and business acumen are outlined in his book with humorous annecdotes and stories that will keep you amused while you have trouble putting this book down.
He did this by treating people the way he would have wanted to be treated, something that he finds lacking in major corporate customer service departments. He has defied the corporate bullies and used their competitive edge to his advantage. He shows the reader how to look defeat in the face and laugh.